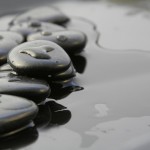 I spent Labor Day weekend in a state of forced digital 'un'distraction. "Refrain from using cell phones in the spa. Please leave them in your locker." Yikes. I didn't remember that from last time. I considered the size of my robe pocket and how it would droop with a rectangular silhouette if I slipped it in on the sly. Uh-uh. I slumped away…digitally naked.
It was anxiety-inducing for a few minutes. My phone with its email chimes, calendar dongs and text chirps is at the ready 17-7 (24 hours minus 7 for sleep). The only other time I turn it off is to meditate for 15 minutes during daylight. I am ON. Except at the spa. But here's what I learned…
Zoning out doesn't mean turning off. Taking a digital or physical vacation allows for a much more ON state. As you step back from the intensity of daily living and the digital distraction recedes, mental clarity improves and insights come. You gain perspective.
I didn't stop thinking about work while tucked away in the Blue Ridge Mountains. Instead, ideas flowed easily and continuously. Maybe it was the cucumber water that paved a thought highway, but I'm pretty sure it was the lack of distraction.
If you can't take a physical vacation right now, take a mental one. Retreat into a quiet space in your mind. Turn everything off. Take deep breaths. Unload the distractions. Who knows what will come…
Back to Blog