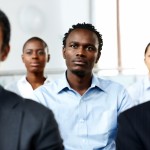 "If our office has a Meditation Room, shouldn't we also have a Prayer Room or a chapel?"
prayer: an address (as a petition) to God or a god in word or thought
meditation: the act or process of spending time in quiet thought
Merriam-Webster may have strict definitions for prayer and meditation, but for the sake of this blog, we will more loosely use meditation as quieting the mind.
The idea behind a Meditation Room is not to introduce religion into the workplace. People have mistaken the Meditation Room for a space to practice Buddhism. If we have a place for Buddhist teaching, then shouldn't we have a space where we can practice other religions at work, they ask. The concept behind the Meditation Room is simply to have a calm place to go where employees can quiet their minds as research has shown that meditation is effective in reducing the stress response, boosting creativity and productivity and improving mood, all of which have a positive impact on the employee, the company and the consumer of the business' products or services.
While your employer can not control whether you pray, meditate or just enjoy some quiet time in the Meditation Room, using the space for its intended purpose is ideal given all we know about the benefits of quieting the mind. For more information on these benefits, click here.
The Meditation Room is an inviting, relaxing space for religious and non-religious alike. There are no intended religious overtones, undertones or in-between tones. This is a place for releasing thought…getting away from the fray, both physical and mental. All are welcome.
Back to Blog